An effective way to RELAX REJUVENATE RECOVER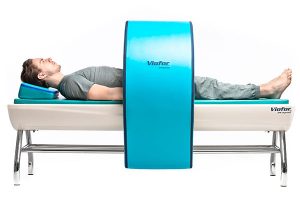 Viofor-therapy
Now you can avail of innovative Pulsed Magnetic Field (PMF) Stimulation method as a stand alone treatment option! I usually use Viofor-therapy during regular session to enhance the effects of manual therapy, either at the beginning or the end of appointment depending on clients individual  presentation. Since the effects of go far beyond therapeutic application ( improved circulation, strengthening immune system, aiding relaxation…), NeuroTao has dedicated 2 hours solely for those interested in benefiting from the treatment!
How does the treatment look like?
First of all, your whole body would be treated on the full bed. Then, a smaller, specialised appliance would be used on the area most affected. A session takes around half an hour and you would stay fully clothed throughout.
The treatment is totally painless and free from any negative side effects. With its low induction levels which correspond to the strength of the earth's magnetic field that is tuned to work with the body's natural resonating frequencies, it is suitable for everyone – from babies to the very old and infirm.
What is Viofor JPS?
Viofor JPS pulsed magnetic field – stimulation method is an unique, patented solution designed for therapy, rehabilitation and wellness with Extremely Low Frequency Magnetic Fields (ELF-MF). The system has been designed by renowned scientist and world authorities in the field of physical medicine: Professors Feliks Jaroszyk and Janusz Paluszak from Poznan University of Medical Sciences and Professor Aleksander Sieron from Medical University in Silesia.
Effects
Viofor JPS System (Greek

viofor

means "going towards life") can be used with good results against many health problems addressed through 

analgesic

or

anti-inflammatory

and

regenerative

effects (on the bones and joints as well as soft tissue, the nervous and circulatory systems):

●      It is an efficient analgesic (through the output increase of endogenous opioids from the ẞ-endorphine group, a substance responsible for increasing the pain threshold), allowing for complete avoidance or a major decrease in the use of painkillers.

●      It has an anti-inflammatory effect (stimulating the creation of c-AMP and prostaglandin E). Undiagnosed or untreated inflammation are seen as one of the most influential factors in chronic diseases. Prostaglandin influences the accumulation of c-AMP, which in turn decreases the secretion of inflammation mediators from neutrophiles, basophiles, mastocytes and lymphocytes.

●      Improves the circulation of blood and lymph as well as the tissue oxygenation (decreasing the surface tension of liquids through magnetohydrodynamic effects), preventing edemas and varicose veins; it is a great prophylactic against cardiovascular diseases.
Effects (2)
●      It improves the metabolism, rejuvenates and revitalizes.

●      It allows for a more rapid regeneration after physical exertion, for which it is widely used in sport treatments (alleviates "muscle fever"; has an analgesic and antiedemic effect). The basic regenerative effects come from the intensification of oxygen utilisation processes and tissue respiration through increased diffusion and oxygen capture by hemoglobin and cytochromes.

●      It limits the negative effects of stress, has a calming and antidepressant effect, improves focus and concentration, has a beneficial effect on the quality of sleep and makes falling asleep easier. Help relaxation (decreases heartbeat frequency, slows down and deepens breathing).

●      It is used in treating virility disorders.

●      The alternating magnetic fields (thanks to the piezoelectric qualities of bones) are used in medicine to decrease the amount of time needed for broken bones to heal.
Effects (3)
●      It increases the amount of calcium in bones, preventing osteoporosis with great efficiency.

●      It stimulates the production of natural collagen, giving skin a delicate, healthy look and limiting cellulite.

●      It supports the endocrine system, alleviating symptoms of menopause and andropause.

●      It stimulates the immune system, decreasing the likelihood of infections and alleviating their effects, as well as preventing complications.

●      It allows to decrease the medicine intake (in consultation with the doctors, e.g. diabetics require less insulin after a while).
As an official distributor of Med&Life co. we can arrange purchase of Viofor JPS System for both home as well as professional  use. Alternatively you can avail of rental option for period of up to 2 months.