I was fortunate to meet many inspiring people on my personal way to recovery, they have ignite my interest for what I do today and what I can offer to others on their journey. Neuro Tao (Tao is often translated as "path") is a result of my experience so far with different practices, martial arts and therapeutic approaches, but most importantly interactions with people who I've worked with since I've decided to commit myself into helping with whatever their goals were. What I've learned so far is that we have all amazing ability to grow, improve our health and get better whatever the circumstances.
I consider my approach to treatment as holistic, I trained and qualified in:
Neuromuscular Therapy (2013  National Training Centre, Dublin)
Structural Bodywork – Myofascial Release (2015  – Kinesis UK)
Neuro-skeletal level 2 certification (2020 Applied Movement Neurology Academy London UK)
Use and installation of Viofor JPS System
Since 2014 I  cooperate with manufacturer of Viofor JPS Medical Devices for therapy and rehabilitation as a representative and provide training for individuals as well as medical professionals.
I started teaching Tai Chi in 2017 and use some of the tools learned in the courses in my classes and on the other side, I use some of Tai Chi principles learned over the years in the treatment setting.
The treatment itself is dependent purely on our findings. We ask your system questions where does it need the intervention, scanning different pathways (using AMN calibrate approach) and performing various tests to establish best treatment plan.
If your looking to live healthier, pain free and balanced life, either through Tai Chi or Treatment options than I'll do my best to help you to achieve your goal!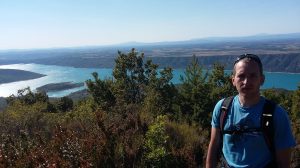 Adam Cwik
https://neurotao.ie/